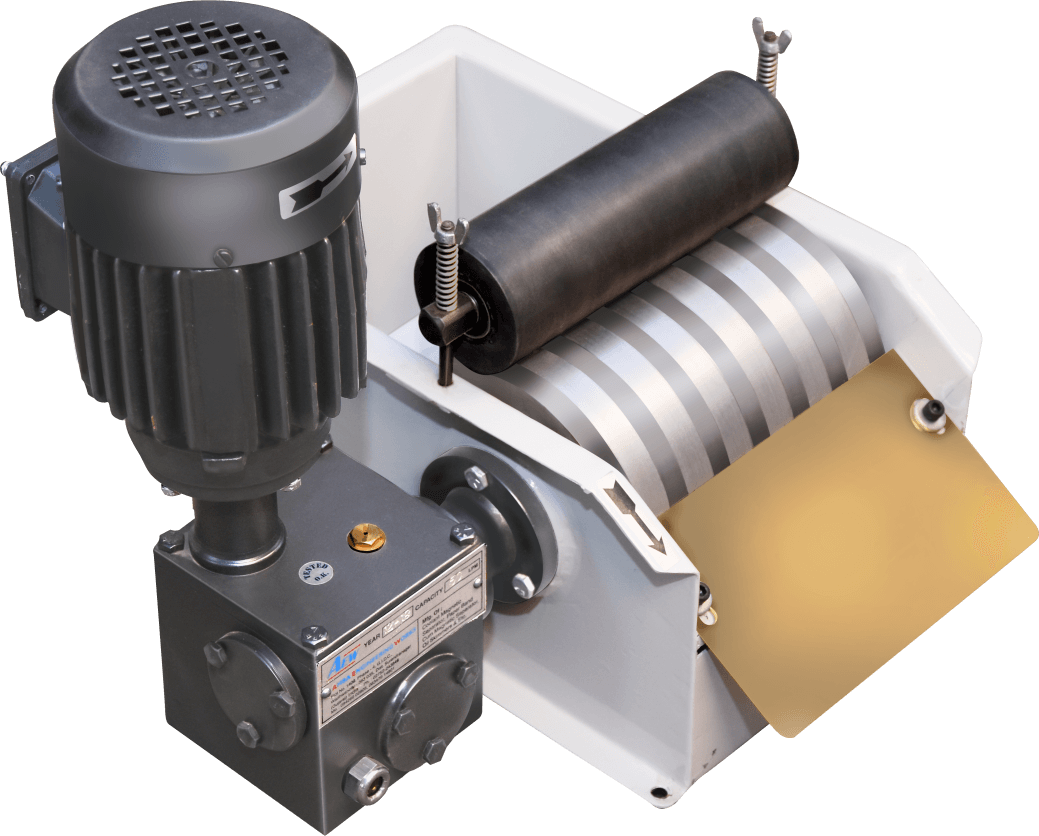 Coolant Magnetic Separator
GEAR BOX
The drive of the drum is achieved by double reduction worm and worm wheel. The worms are made in high carbon steel, hardened and ground which run on sealed ball bearings. The worm wheels are made in high wear resistance materials. An oil indicator is provided to ensure the level of oil in the gear box. This box is designed for continues and trouble free running for years.
WORKING PRINCIPLES
The contaminated coolant from the machine is fed into the inlet of Coolant Magnetic Separator. As it passes through the gap between the drum and the body, the dust particles are arrested by the magnetic drum. A synthetic rubber roller mounted on springs, squeezes the dust and allows only dry power, which is further scraped out from the drum by scraper and is collected in the dust collecting tray. The filtration level achieved will be almost 95% for ferrous particles.
APPLICATION
These Magnetic Separators can be used with all types of grinding machines such as Cylindrical, Center less, internal, Surface, Double-disc & Roll-grinding machines. These can also be used for filtering honing oil of Honing machines.
| No. | Capacity In LPM (lit/Min) | Motor H.P. | Drum R.P.M. | Magnetic Drum Size |
| --- | --- | --- | --- | --- |
| 1 | 35 | 0.25 | 2.2 | D 150x140 L |
| 2 | 50 | 0.25 | 2.2 | D 150x190 L |
| 3 | 65 | 0.25 | 2.2 | D 150x260 L |
| 4 | 100 | 0.25 | 2.2 | D 150x360 L |
| 5 | 150 | 0.50 | 2.2 | D 150x550 L |
| 6 | 200 | 0.50 | 2.2 | D 150x700 L |
| 7 | 400 | 0.50 | 2.2 | D 150x1000 L |